I have a treat for you guys today! To celebrate the release of the NEW KIKI STRIKE BOOK(!!!!!) Kirsten Miller is going on a blog tour and I get to participate! Check out this awesome interview from her and then enter the giveaway for the first two books in the Kiki Strike series!
You have two series that are quite different from each other (THE ETERNAL ONES and KIKI STRIKE). Can you write two such different stories simultaneously, or do you only write one story at a time?
I don't think
The Eternal Ones
series really represents me as a writer. (Writing romances does not come naturally to me.) If I had to choose two books in order to demonstrate my true breadth, I'd pick the latest Kiki book,
The Darkness Dwellers
and my new teen novel (out in February),
How to Lead a Life of Crime.
I wrote them back to back. (Sometimes I'll edit one book while writing another, but I never write two at once.) And while the two books are VERY different (How to Lead a Life of Crime is extremely dark and violent), they share many similarities. They're thrillers/adventure stories with kick-butt characters and a weird sense of humor. That's what I do best. I honestly believe that my two latest books are by far the best novels I've written.
What were your worst and best subjects in high school?
Best: English
The One I Loved Most: Chemistry
The One I Despised Most: Gym
Worst: Staying Out of Trouble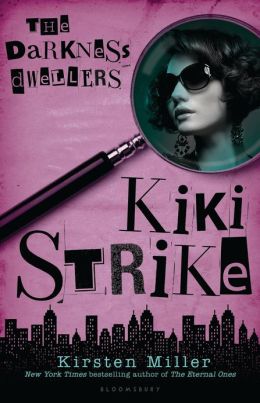 Do you read your books after they've been published? On a similar vein, do you read reviews? Why or why not?
I will occasionally ready my own books. But only the good parts—and I know just where they are.
I try to avoid reviews, although I'm not always successful. Writing books is one of the most difficult things a person can do for a living. (At least it is for me.) In order to keep going, I need to believe that people will enjoy the results of my labor. From what I've gathered, most readers have been quite happy with my novels. But there are always a few folks out there whose reviews seem to be designed to make me miserable. And you know what? They can—at least for a little while. So I do my best to stay away.
Are you a Vespa riding dare-devil like Kiki, or do you prefer transportation with four wheels?
It's so funny you ask! I live in New York, where you don't really need personal transportation. But I did have a cherry red Vespa for years. Just yesterday, I mentioned to a friend that I'm thinking about getting another one. (And yes, I am an AMAZING driver. Watch out, pedestrians. Ha.)
What's the single greatest piece of advice you've received since you sold your first book?
Here's the piece of advice I wish I'd received . . . Always stay true to who you are as a writer.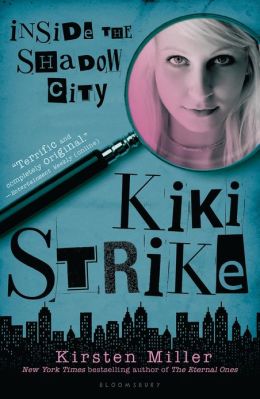 Do you read the same kind of books that you write? Do you ever worry about accidentally "copying" another author's voice?
I read mostly non-fiction these days. (I'm always on the look-out for weird facts that can provide fodder for my books.)
No, I never worry about copying another author's voice. Every writer has his/her own set of insecurities, and I don't possess that particular one. My biggest problem is a lack of patience. I expect everything to be perfect the second it spills out of my brain. (Something that almost never happens.)
If you could jump into the world of Kiki Strike and join her team, would you do it? What if you had a guarantee that you would live?
I would LOVE TO. I don't need a guarantee, either.
And finally, can we do a mad-lib? Please provide 3 random nouns, verbs, and adjectives.
Reptile
Cadaver
Wig
Excavate
Lick
Tangle
Hidden
Sassy
Fiendish
I haven't had time to get my hands on one of Kirsten's book to fill out her mad-lib. But I will soon, and it will be AWESOME!
GIVEAWAY TIME!
I have a copy of the first two Kiki Strike books to give away! Enter via the rafflecopter!
a Rafflecopter giveaway

All review content © Enna Isilee, Squeaky Books 2007-2012