Wahoo! If you're reading this, finals week is finally over! Even though my finals week wasn't very hard, it still felt like FINALS WEEK and so I had this strange guilt about reading. But that's gone now, and it's time to read!!!
I am WOEFULLY behind on my reading goal, but I hope to read at least TEN BOOKS before I go back to school on January 7th. The the top ten books I'm hoping to get to can be seen in
this list
, but what I want to know from YOU is...
Who wants to read-a-thon?!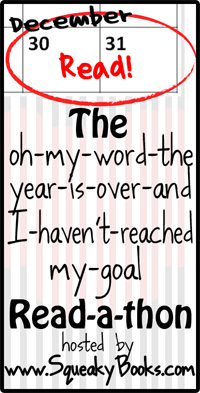 In order to meet my goal I would LOVE to have another read-a-thon (last year's read-a-thon button is pictured). If you would be interested in participating, please let me know which of the following dates are better for you:
Or if there are enough people who want to do both, we can do both! Let me know in the comments!

All review content © Enna Isilee, Squeaky Books 2007-2012