Connect with Ruta:
Goodreads | Website | Twitter
Today I get to feature the AWESOME author, Ruta Sepetys. Her book
Between Shades of Gray
(NOT to be confused with a certain book that is sweeping the nation in awful) brought me to tears. I loved it so much. Today I have a really short interview with her. She's answering my favorite question to ask historical fiction authors, and she's telling us about her new book! Enjoy!
We all know that history is an important subject. "Learn from the past," and all that good stuff. But what I want to know, is why do you think historical fiction is important? How does it compare to just historical textbooks or nonfiction? And why did you choose to write your story as fiction instead of nonfiction?
Sometimes history can be a bit dry. But through characters and fictional stories, statistics become human. We cheer and cry for people we've never met. Suddenly, their history matters. That's the power of books and the power of historical fiction. As we read a historical novel, we're not only enjoying a story, we're learning about a piece of history. And sometimes, wrapping fictional characters around historical events allows writers to present the history to a larger audience.
Tell us about Out of the Easy in comparison to Between Shades of Gray. How is it similar/different? Did it require as much research? Is it meant for the same audience, etc.
Yes,
Out of the Easy
required just as much research, but the setting of post-war America vs. Siberia was of course very different. When writing
Between Shades of Gray
, I wasn't able to physically explore Siberia and had to interview those who were in exile to get the details. For
Out of the Easy
, I spent quite a bit of time exploring New Orleans and the French Quarter on my own. Although the settings are extremely different, both books have themes of hope, courage and love, and will hopefully appeal to both young adults and adults.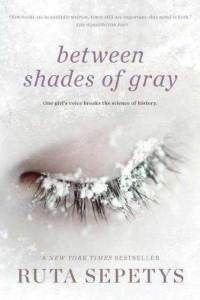 You can win a SIGNED copy of
Between Shades of Gray
! Today's giveaway is hosted by
Kami's Library Thoughts
. Head on over to win. This giveaway is open TO US ONLY.

All review content © Enna Isilee, Squeaky Books 2007-2012