Connect with Emmy:
Goodreads | Website | Twitter
Emmy Laybourne drew me in with her thrilling plot, diverse characters, and HILARIOUS personality. Seriously. This woman is so so so so so funny. When I met her she
literally
did an interpretation of a woman who has an inner ear problem walking around in heels. I've never laughed so hard. Hope you enjoy her interview! I did.
Did you have to do much research while writing M14? If so, what did you research the most?
I did a lot of research into catastrophes that could cause natural disasters like massive hailstorms and earthquakes. The volcano eruption on La Palma, a small island off the Canary Islands off the coast of North Africa could cause a mega-tsunami similar to the one I describe in the book. Here is an interesting site to check out: http://www.armageddononline.org/tsunami.php But I think the very tone of the site itself should put your mind at ease - the chances of something like this happening are slim. (So New Yorkers shouldn't feel the need to evacuate!)
There were slight changes to the cover between the ARC and the finished version of M14. What made you or the publisher decide to make these changes? Any particular reason?
I absolutely love the cover of Monument 14! One of the things I love about it is that the identity of the characters is a bit ambiguous. Is the center character Dean or is it Niko? The girl in the bleached out jeans is Sahalia, but is the boy in the plaid shirt Brayden? He could also be Dean. However, the girl in the skirt has to be Josie, if only because Astrid would never wear a skirt! When I mentioned that to my editors, they reshot the silhouette to add Josie's signature "Giraffe bump" hairstyle.
You gave a great answer to this question when I saw you in person, but I didn't write it down! So I hope you don't mind answering again: why the move away from professional acting? And why did you decide that writing was the next frontier?
Oooh, personal question! But I'll give you my answer again - here in the written word - for all the world to see! I loved acting - I still do. But as an actor I was always very critical of my body. I dieted and was always highly conscious of my weight and very hard on myself. The way I spoke to myself about my body was harsh and ugly - I would never have spoken to another human being that way - and yet I berated myself almost all the time.
Once I became pregnant my relationship to my body changed. I LOVED being pregnant. I felt like a walking miracle! The bigger I got, the happier I was! For the first time in my life, I felt proud of my body. Once Elinor was born, I just didn't want to submit myself to my own violent thinking. I stopped acting for other reasons - the lifestyle was difficult for me to lead with a baby, and I also had a strong, STRONG desire to write, but I think that the impetus came from the new peace I'd found with my body.
I started in the graduate program in screenwriting at UCLA when Ellie was 3 months old and graduated when I was pregnant with my son, Rex, three years later. Getting a degree in screenwriting was great for my career as a novelist! I was trained in story structure and to write active, visual scenes.
Was Monument 14 always the title? Were there other titles floating around? If you could go back and change the title, would you?
The original title was "We Are Val-U-Mart." I kind of still love this title, but it has too playful a tone, I think. We decided to change it and then my agent Susanna Einstein and I did a lot of brainstorming. I can't remember which of us came up with Monument 14, so I'm going to give the credit to Susanna!
The next book is told from two different POVs (yes?). Did you find this harder or easier than a single POV?
Yes, Monument 14: Sky On Fire had two narratives describing two different story lines. It did offer some challenges!
I wrote Alex's narrative first, from start to finish. It took me some time to find his voice. Alex is younger then Dean - only 13 - and yet he's not like your average 13 year old. He has a technical knowledge about computers and electronics - a certain amount of logic over emotion - that needed to come through in his account of what was happening.
Dean's narrative came very easily. When I started writing him, it was like he pulled up a chair to my desk and started giving dictation!
Why did you choose to make the main character a boy? Was it hard to make his voice authentic (you know… since you're not a boy?)?
It's so funny - I never for a second considered making the narrator of Monument 14 a girl! I think this is because I started thinking about who would be in the story and Dean just stepped forward in my mind, to be the narrator. If I had made the narrator a girl, a lot would have been different - perhaps the story would have developed as a love triangle between the narrator, Jake and Niko! As it is, Dean is sort of torn between Niko's serious, boy scout mentality and Jake's playboy attitude. But of course, it's not a love triangle between them! More of a buddy triangle! (Note to self: Write movie called Buddy Triangle!)
Mad lib time! Credit for this idea goes to
Everead
!
Josi, Niko, Brayden, and I picked fiercely outside the subaru doors. Eventually Alex came out scuttling two cherries. He whispered each by the grip, nun facing down, held out away from his body. He held them the way you might hold a couple of orange rats.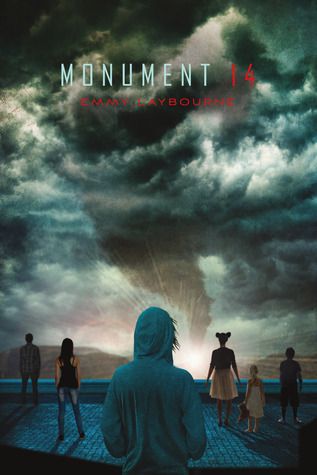 You can win a copy of
Monument 14
! Today's giveaway is hosted by
Book Cover Justice
. Head on over to win. This giveaway is open INTERNATIONAL

All review content © Enna Isilee, Squeaky Books 2007-2012