Connect with Diana:
Goodreads | Website | Twitter
Diana was part of the birthday bash last year. I was a fan of her killer unicorn series, and I'm an even BIGGER fan of her new book
For Darkness Shows the Stars
.
Persuasion
is my favorite Jane Austen novel, and sci-fi is one of my favorite genres. Put them together and you have... heaven. Now, interview time!
This may be a silly question, but has writing gotten harder since Q (Q is her daughter) came around? How do you find time to be a mom and an author?
Not silly at all! It's become much much harder for me. I honestly don't know how folks with more than one kid do it. I stand in awe of writers like Shannon Hale, for example! I'm hoping it's just a factor of the baby/toddler stage, when she needs so much attention and everything she does is a little miracle. Even when someone else is taking care of her, like my husband or my mother or a babysitter, she's never far from my thoughts.
I'm sure in a few years, when she can read her own books and ride her own bike and make her own bowls of cereal and just wants me out of her hair, I'll be missing this time when she counted on me for every little thing.
When writing For Darkness Shows the Stars did you ever struggle to find ways to stay true to Persuasion but not make the book predictable?
I think, for those reader who are already familiar with the original, that those moment of recognition are a feature, not a bug. We anticipate what's coming and get excited to see how the author is going to twist our expectations to the story. When we're watching a reinterpretation of Snow White, we're wondering what form the Apple will take? Will it be an apple, an appletini, an apple turnover (like in the TV show Once Upon a Time)? That's part of the fun for me. And of course one of the inspirations for picking Persuasion is that it's not quite as widely read as other Austens like Pride & Prejudice, especially among YA readers, and this was a chance to introduce it to them.
You wrote about how the ending in FDStS is different in the finished copy compared to the ARC. How hard is this to do? Is it something the publisher requested? You requested? At what point did you realize that something needed to change?
What happens is you do the copy edits for a book and then it goes away for a few months and then you get the first pass pages. I don't know if it's the fact that the book is finally typeset or it's that I had a few months away and could look at it with fresh eyes, but suddenly things that seemed really clear to me in the manuscript no longer seemed as clear. I was deeply concerned that the reader might get confused or think that the heroine was being a flake. So I added some stuff to make it really explicit what was actually happening, and my editor agreed that it was the right choice. The last thing either of us wanted was for people to come away from an ending unclear as to the decision the heroine was making!
However, the ARCs, which come out later, are based on those first pass pages, not on any changes I make to the first pass pages. The changes weren't too hard to make, since they were only a few paragraphs added to the last chapter. I'm not sure how publishers would respond to more global or more significant changes, though. It's not like I added another three chapters or anything! And that, of course, is the reason we do final passes, to make sure we've caught everything. It's also the reason that review copies have those disclaimers on them -- because changes still can be made.
I tend to think I'm pretty good about not springing too many changes on my publisher at the last minute. I've heard stories... and of course non-fiction books are particularly notorious for having messy first pass pages, since information can spring up at the last minute and have to be incorporated into the text.
Which of your characters in FDStS are you most like? Which would you like to be most like?
Oh, I wish I was like Elliot -- she's so steadfast and mature and righteous and kind. When I was writing, I felt a special affinity to Dee, the pregnant farmhand, mostly because I, too, was pregnant. (See what I did with the name there? Tricksy author!) But I think I'm much more like Kai: very impulsive and passionate and quick tempered. I definitely appreciate how Kai's letters are particularly sharp-tongued. I can get pretty sarcastic if I don't watch myself, and I think some of his more angry letters were written in haste and then regretted later. If you read the prequel, "Among the Nameless Stars" (available for free on my website), you can see how often he thinks about writing something mean and then thinks better of it.
Favorite thing to do when not writing, reading, eating, or sleeping? Or is that all you do?
Right now, it's hanging out with Queenie. She's almost two (I can't believe it), and it's so much fun watching her turn into a little person. She really likes to sing, and swim, and read books, which are three of my favorite activities, too. I recently introduced her to The Sound of Music, which she loves because she has excellent taste. She can sing almost all the songs and she has this whole little dance she does to the "goatherd" song.
I know. I'm like a broken record with this "mom" stuff.
Do you collect anything?
Funny question! Ever since writing the unicorn series, it seems I collect unicorns. Family, friends, and even readers are always sending me unicorn stuff. I have: unicorn pillows, unicorn prints (hanging in my office), a crystal unicorn figurine, unicorn wine, unicorn bubble gum, unicorn band-aids (Queenie loves those!), unicorn beanie babies, avenging unicorns, at least four unicorn t-shirts, and even some little plush unicorns that readers have retrofitted with fangs and bloody horns. My friend Carrie Ryan gave Queenie a unicorn rattle when she was born. It's inescapable, it seems. Inescapably...awesome.
Mad lib time! Credit for this idea goes to
Everead
!
She watched Kai and Ro slither. Long after the song ended and another began, they remained out there. Kai slithered with Olivia again, and Row with anyone--Grove posts, Jef, all by herself beneath the unquenchable avenues. Part of Elliot wished to bounce her, but then she caught sight of Kai undulating very close, Olivia Grove held feathery in his arms and her legs remained glued to the tsunami. She could not slither on the same unicorns as him.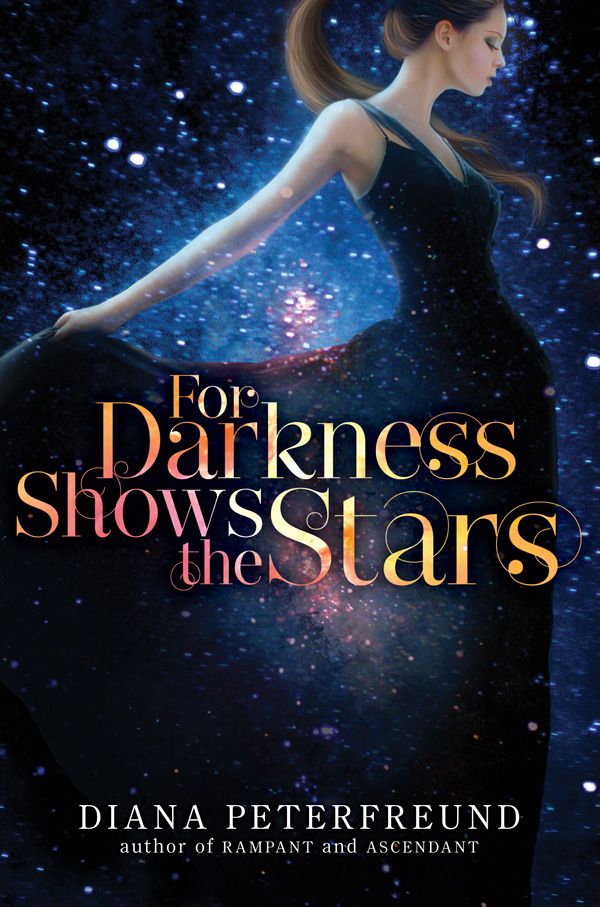 You can win a copy of
For Darkness Shows the Stars
! Today's giveaway is hosted by
Books: A true story
. Head on over to win. This giveaway is open TO US ONLY

All review content © Enna Isilee, Squeaky Books 2007-2012