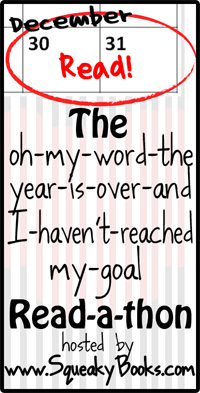 I think the name of this read-a-thon says it all. Have you reached your goal? Yeah, me neither. *glares at all you goal-finishers* But the year isn't over yet! We may have procrastinated, but there's still hope!
Even if you have met your goal, I hope you'll join us for the
oh-my-word-the-year-is-over-and-I-haven't-reached-my-goal read-a-thon!
The read-a-thon will go from
12:01am MST on December 30th and go until 11:59pm MST on December 31st
. I know that this falls right on new years eve, which might bother some of you, but I don't really celebrate that holiday. This'll probably be the only thing that keeps me up until midnight.
And
this is a
self-motivated
read-a-thon. What does that mean? Well, in a nutshell it means I won't be giving away any books or prizes. You're participating just for the love of reading. This way there's no pressure to skip out on holiday festivities in order to participate.
There will be only 4 updates (instead of one every 2 hours. Geez. What was I thinking?). At 12 hours, 24 hours, 36 hours, and 48 hours. And I'll provide a Mr. Linky here for you to link up.
No mini challenges. I want you to focus on reading.
Maybe this'll become a tradition too. A read-a-thon in June, and one in December.
Well? Is anyone out there interested in participating? Or will I be read-a-thon-ing by myself? Sign up using the Mr. Linky if you're going to join in the fun. If you don't have a blog, feel free to sign up and just link back to my blog. :) Below Mr. Linky is where you can grab the read-a-thon button. If you do post it on your website, be sure to let me know in the comments so I can come look!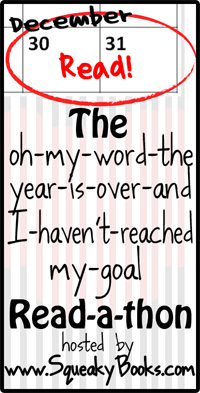 <a href="http://www.squeakybooks.com/2011/12/read-thon-winter-version.html"><img src="http://i1213.photobucket.com/albums/cc470/SqueakyBooks/Button-1.png"></a>

All review content © Enna Isilee, Squeaky Books 2007-2011