I have some CRAZY exciting news to share!
Some of you may be familiar with the tournaments regularly hosted by the YA Sisterhood. The've done villains, crushes, and they aren't stopping there! In December they're hosting theTtournament of Heroines! If you want more info you can
click here
.
But the really exciting news?
I get to be the advocate for Karou from Daughter of Smoke and Bone!
So that means that I will be leading the charge in Karou's journey through the tournament. I'll be keeping you updated on whenever Karou fights so you can be sure to help her win! I've got a lot of plans for Karou, but almost everything depends on YOU!
How can YOU show your support and help Karou win? LOTS of ways!
VOTE! Every match is determined by votes. If you don't vote, she won't win! I'll let you know every time you can vote for her! EVERY vote is important!
Follow me on twitter, and follow YA sisterhood on twitter. For that matter, you should follow Karou on twitter, and Laini! Everybody!
Tweet with the hashtag #HeroineTourney and #TeamKarou
TELL YOUR FRIENDS! Karou needs all the support she can get!
Post about the tourney on your blog, twitter, FB, etc.
Grab a button/banner! I've got a bunch to choose from! Check them all out below!
Here are all the competitors and a bracket of who they are fighting and when:
Now grab a button!

| | | | |
| --- | --- | --- | --- |
| 1000px Wide | 700px Wide | 500px Wide | 400px Wide |
| <a href="http://ya-sisterhood.blogspot.com/2011/11/ya-sisterhoods-tournament-of-heroines_24.html"><img src="http://i1213.photobucket.com/albums/cc470/SqueakyBooks/KarouFTW/b-1000px.jpg"></a> | <a href="http://ya-sisterhood.blogspot.com/2011/11/ya-sisterhoods-tournament-of-heroines_24.html"><img src="http://i1213.photobucket.com/albums/cc470/SqueakyBooks/KarouFTW/b-700px.jpg"></a> | <a href="http://ya-sisterhood.blogspot.com/2011/11/ya-sisterhoods-tournament-of-heroines_24.html"><img src="http://i1213.photobucket.com/albums/cc470/SqueakyBooks/KarouFTW/b-500px.jpg"></a> | <a href="http://ya-sisterhood.blogspot.com/2011/11/ya-sisterhoods-tournament-of-heroines_24.html"><img src="http://i1213.photobucket.com/albums/cc470/SqueakyBooks/KarouFTW/b-400px.jpg"></a> |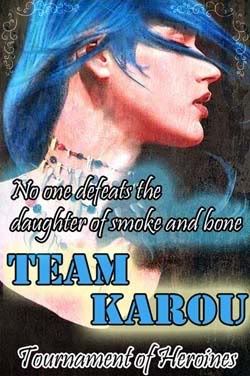 | | | | |
| --- | --- | --- | --- |
| 400px Wide | 250px Wide | 200px Wide | 150px Wide |
| <a href="http://ya-sisterhood.blogspot.com/2011/11/ya-sisterhoods-tournament-of-heroines_24.html"><img src="http://i1213.photobucket.com/albums/cc470/SqueakyBooks/KarouFTW/t-400px.jpg"></a> | <a href="http://ya-sisterhood.blogspot.com/2011/11/ya-sisterhoods-tournament-of-heroines_24.html"><img src="http://i1213.photobucket.com/albums/cc470/SqueakyBooks/KarouFTW/t-250px.jpg"></a> | <a href="http://ya-sisterhood.blogspot.com/2011/11/ya-sisterhoods-tournament-of-heroines_24.html"><img src="http://i1213.photobucket.com/albums/cc470/SqueakyBooks/KarouFTW/t-200px.jpg"></a> | <a href="http://ya-sisterhood.blogspot.com/2011/11/ya-sisterhoods-tournament-of-heroines_24.html"><img src="http://i1213.photobucket.com/albums/cc470/SqueakyBooks/KarouFTW/t-150px.jpg"></a> |
| | | | |
| --- | --- | --- | --- |
| 400px Wide | 250px Wide | 200px Wide | 150px Wide |
| <a href="http://ya-sisterhood.blogspot.com/2011/11/ya-sisterhoods-tournament-of-heroines_24.html"><img src="http://i1213.photobucket.com/albums/cc470/SqueakyBooks/KarouFTW/1-400px.jpg"></a> | <a href="http://ya-sisterhood.blogspot.com/2011/11/ya-sisterhoods-tournament-of-heroines_24.html"><img src="http://i1213.photobucket.com/albums/cc470/SqueakyBooks/KarouFTW/1-250px.jpg"></a> | <a href="http://ya-sisterhood.blogspot.com/2011/11/ya-sisterhoods-tournament-of-heroines_24.html"><img src="http://i1213.photobucket.com/albums/cc470/SqueakyBooks/KarouFTW/1-200px.jpg"></a> | <a href="http://ya-sisterhood.blogspot.com/2011/11/ya-sisterhoods-tournament-of-heroines_24.html"><img src="http://i1213.photobucket.com/albums/cc470/SqueakyBooks/KarouFTW/1-150px.jpg"></a> |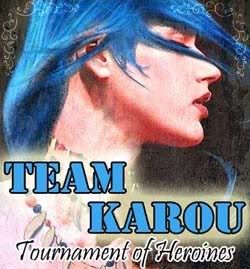 | | | | |
| --- | --- | --- | --- |
| 400px Wide | 250px Wide | 200px Wide | 150px Wide |
| <a href="http://ya-sisterhood.blogspot.com/2011/11/ya-sisterhoods-tournament-of-heroines_24.html"><img src="http://i1213.photobucket.com/albums/cc470/SqueakyBooks/KarouFTW/Square2.jpg"></a> | <a href="http://ya-sisterhood.blogspot.com/2011/11/ya-sisterhoods-tournament-of-heroines_24.html"><img src="http://i1213.photobucket.com/albums/cc470/SqueakyBooks/KarouFTW/2-250px.jpg"></a> | <a href="http://ya-sisterhood.blogspot.com/2011/11/ya-sisterhoods-tournament-of-heroines_24.html"><img src="http://i1213.photobucket.com/albums/cc470/SqueakyBooks/KarouFTW/2-200px.jpg"></a> | <a href="http://ya-sisterhood.blogspot.com/2011/11/ya-sisterhoods-tournament-of-heroines_24.html"><img src="http://i1213.photobucket.com/albums/cc470/SqueakyBooks/KarouFTW/2-150px.jpg"></a> |
| | | | |
| --- | --- | --- | --- |
| 400px Wide | 250px Wide | 200px Wide | 150px Wide |
| <a href="http://ya-sisterhood.blogspot.com/2011/11/ya-sisterhoods-tournament-of-heroines_24.html"><img src="http://i1213.photobucket.com/albums/cc470/SqueakyBooks/KarouFTW/3-400px.jpg"></a> | <a href="http://ya-sisterhood.blogspot.com/2011/11/ya-sisterhoods-tournament-of-heroines_24.html"><img src="http://i1213.photobucket.com/albums/cc470/SqueakyBooks/KarouFTW/3-250px.jpg"></a> | <a href="http://ya-sisterhood.blogspot.com/2011/11/ya-sisterhoods-tournament-of-heroines_24.html"><img src="http://i1213.photobucket.com/albums/cc470/SqueakyBooks/KarouFTW/3-200px.jpg"></a> | <a href="http://ya-sisterhood.blogspot.com/2011/11/ya-sisterhoods-tournament-of-heroines_24.html"><img src="http://i1213.photobucket.com/albums/cc470/SqueakyBooks/KarouFTW/3-150px.jpg"></a> |

All review content © Enna Isilee, Squeaky Books 2007-2011