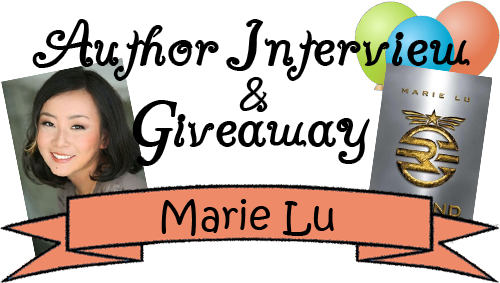 I think we all can agree that the dytopian genre is taking YA literature by storm. One 2011 dystopia stand out in my mind, and it isn't even out yet! Today I get to interview Marie Lu, author of the AWESOME book,
Legend
.
Legend
is everything a dystopia should be, and I loved it. Check out her interview, and enter to win a copy!
My review of Legend
Connect with Marie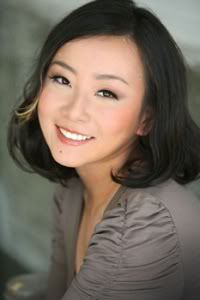 What's your favorite thing about birthdays and why?
The best part is always the presents, isn't it? :) I kid! Best part is that it's always a good excuse to hang out with friends.
I agree! I love having an excuse to see friends and family, but the presents are a close second. *wink* So what was your favorite birthday present you have ever received?
Several years ago, my boyfriend took me to Catalina Island (a lovely tourist island off the coast of southern California). Kayaking, golf-carting, eating...it was fantastic.
How many books do you read a week/month?
I'm a pretty slow reader compared to many of my friends. On average, I'd say I read about 2 books a month. Some months I squeeze in as many as 4, and other months I don't squeeze any in at all.
That's not bad! That's a book every 1-2 weeks. More than lots of pople I know. When you were a kid, what was your favorite book?
Probably the Redwall series, by Brian Jacques. "Mattimeo" was my first fantasy-esque book, and introduced me to the wonderful world of F/SF.
Ah. "I am that is." I was really into the Redwall cartoon as a kid, but the AMOUNT of books in the series scared me away from the books. If you had taken the Trials, what score do you think you'd have gotten?
I do fairly well at multiple choice tests, so I probably would have passed that section of the Trials. However, I'm almost certain I would have failed the physical portion of that test!
I would have too! If you could trade lives (for any period of time) with one of your characters in Legend who would it be? Why them?
As much as I'd like to say I would trade places with Day, I don't think I would be able to survive on the streets. So I'd trade with June, only for a little while. At least I'd get to enjoy the comforts of high-class Republic living.
Can you tell us anything about the sequel to Legend? Release date? Title? I know Legend itself isn't even out yet, but I'm excited!
I'm afraid I can't release much about Legend 2 yet! I believe its release is currently schedule for Fall of 2012. That's about all I can say.
Are you working on any projects other than the Legend world? Can you tell us about them?
Yes, I am! I have a new series that I am playing with in between working on drafts of the Legend trilogy. It has some similarities to Legend, but many differences as well. That was vague, wasn't it? I'm pretty excited about it and hope that it'll see the light of day after the Legend books are completed.
The ARC of Legend is really cool because it has gold ink, will the finished copy have this gold ink? Was that something you had in mind, or was that a publisher's choice?
The cool font/color changes were all courtesy of Penguin. I was pretty excited when my editor first mentioned it to me, because I've never seen different colors of ink used inside a novel before.
And now it's mad-lib time! Hurrah!
Tess's voice sneezes me out of my cupcake. I look away from the lake to see her holding out a piece of elephant and Playstation 3, punching for me to take it. I should be hungry. I've only eaten half a mushroom since my encounter with the strange government agent last night. But somehow the elephant and Playstation - still uncouth from the shop where Tess had traded a few precious Notes for it - doesn't seem votable.
*mad-lib idea was inspired by Alysa at Everead!
GIVEAWAY TIME!
Today's giveaway is a pre-order of
Legend
! This is not a book you want to miss out on, so head on over to The Reading Housewives to win!