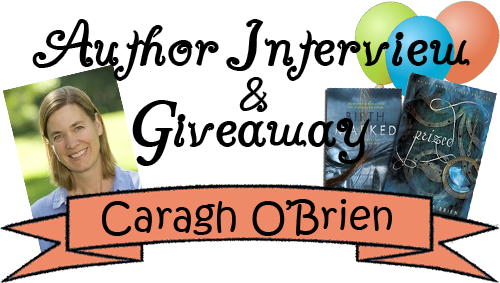 Last year I read one of the most AMAZING dystopias EVER. It's called
Birthmarked
by Caragh O'Brien, and it's WONDERFUL. I featured Caragh at the birthday bash last year, but wanted to feature her again this year to celebrate the upcoming release of the sequel to
Birthmarked
called
Prized
. Check out her interview, then enter to win an ARC of
Prized
!
My review of Birthmarked
Connect with Caragh:
Website
|
Twitter
If you could invite any person (living or dead) to your birthday, who would it be?
I'd invite my family. They're the people I like to celebrate with. Inviting someone like President Obama or Drew Barrymore would make me feel like I had to stop writing for a while to prepare. I'd probably have to scrounge up a new outfit, too, come to think of it, and I'd feel bad about keeping my guests from more important duties. So, just my family.
I've never thought about that! It would be super-stressful. Perhaps family is the way to go. What's your favorite thing about birthdays and why?
My favorite thing about birthdays is blowing out the candles. I don't know why that still delights me so much. It's like a moment of having a secret power, and this crazy suspense, like it really matters to blow them all out.
Candles stress me out, because I always try to get them out in one blow, but I don't want to spit all over the cake. How many books do you read a week/month?
I go on binges, when I read books back-to-back for days, and then read none for weeks. In the last month, I've read two.
What kind of music do you like to listen to? Favorite band/artist?
I listen to Grooveshark while I'm writing, and I have playlists of showtunes, Bach, choral favorites, and James Taylor. I like Lady Antebellum, Taylor Swift, and Carrie Underwood right now, too. They make me sing along.
If you could change nature's color palette, would you? What would you change? (ie. blue trees, purple grass?)
No, no, no. I'd never mess with what's perfect. We could just plant more yellow flowers and that would do the trick.
How many Birthmarked books will there be?
There'll be three books.
Which was easier to write, Birthmarked or Prized?
Birthmarked was easier. I was in a sort of care free glow of creativity, having fun all through the first draft. The difficulty came later, with the revisions. Every part of the process with
Prized
was pretty much maddening, but I love how it turned out.
Caragh was really nervous about her mad-lib, which made the results pretty funny.
The sky was becoming gradually No. I can't. I already feel like I'm doing it wrong., with a tinge of How about if we play Pounce instead?, and more people were coming out into the You know that card game?. She kept We play it on the floor and we each have our own deck., afraid to It goes so fast, afraid to go far downhill again in case she got lost. Above, people hung out lines of and we play so long between the buildings, and as she looked down, she marveled to see that everyone wore we don't even notice until, even the we try to get up that. Old or young, everyone looked our legs and backs are aching and well fed.
*mad-lib idea was inspired by Alysa at Everead!
Tee hee. Thanks, Caragh!
GIVEAWAY TIME!
Today's giveaway is hosted by Kaylee Baldwin! You could win an ARC of
Prized
! This book is AMAZING. You totally want it. And the cover is SO COOL! Head on over to her blog to win!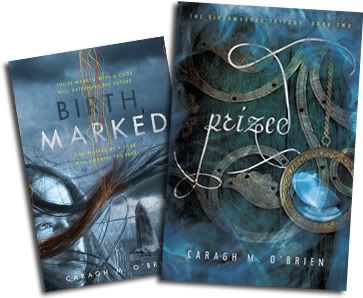 All review content © Enna Isilee, Squeaky Books 2007-2011