If you existed anywhere in the blogosphere in late 2010 or early 2011 then you already know about this awesome book. Want to know more about the author behind it? Read on!
Connect With Beth
I feel like Across the Universe is pretty solidly set in the sci-fi/dystopia genre. Is that your niche? Would you ever consider writing something fantasy, or even contemporary fiction?
Actually, I've mostly written fantasy--sci fi was a total departure for me! I believe the next thing I write will be fantasy...but I can definitely see myself coming back to sci fi in the future.
Well, you're a sci-fi natural. What is your most defining trait?
I think it's my empathy. I tend to be very positive and think the best of people--mostly because I can usually see where they are coming from and why they are doing what they do.
Oi. I could do with some of that. I'm WAY too much "my way or the highway." If you could only smell one scent, which scent would you want it to be?
Lemon-Lavender Yankee Candles. I adore that scent.
Mm! I LOVE lemon. I've never heard of Lemon-Lavender, though. Sounds good! If you could spend your birthday inside of any book, which book would it be and why?
Any of the Narnia books! I want to live in Narnia!!
You're the second author I've asked this two and you gave the same answer! I don't understand it. Narnia is so scary! Speaking of scary, imagine that you answered a knock at your door and found Elder standing there. What would your first reaction be?
I would probably crap a brick, LOL!
That would... hurt. Let's move on. Mad-lib time!
Ooooo! This is fun!!!
I force myself into the picture of green. If I have learned one thing from Eldest today, it is this: Losing my koi fish wil make me look foolish and childish. Instead, I speak slimey, pretty, and sleepy, as if I were writing something very simple. Eldest's notebook runs pale, then purples.
*mad-lib idea was inspired by Alysa at Everead!
GIVEAWAY TIME!
Today's giveaway is hosted by the lovely Pica of Pica Reads! And, you guessed it, it's a copy of
Across The Universe
! Get over there and enter!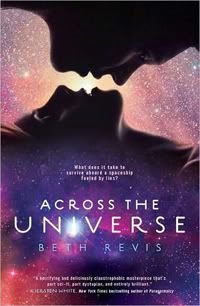 All review content © Enna Isilee, Squeaky Books 2007-2011