Killer unicorns? Yes please. Diana Peterfreund is the author of two AWESOME killer unicorn books
Rampant
and
Ascendant
(which was one of my favorite books last year!). I switched things up a little with her, and decided to do a "This or That" interview. If you don't know what that is, you'll figure out soon enough.
My review of:
Find Diana: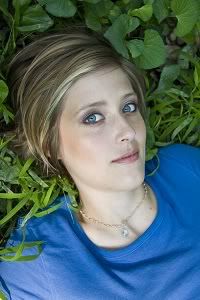 Birthdays or Christmas?
Christmas, but mainly because my birthday is a holiday here (in DC) and that makes it a pain if I want to throw a party. Also, I've finally reached an age where getting older is... not so much fun.
Book Birthdays or Birth-Birthdays?
Birth-birthdays. Book birthdays are too often anticlimactic.
Milk or White Chocolate?
Dark chocolate! Did you know white chocolate isn't even chocolate?
(Enna Isilee: DON'T SAY THAT! I adore white chocolate. I think it's chocolate. It's just really misunderstood chocolate.)
Audiobook or television show?
Television show. I very rarely listen to audio books, but I adore television!
Necklace or Bracelet?
Necklace. Aside from my wedding ring, it's the only kind of jewelry I wear.
Zombies or Werewolves? (No, you can't choose unicorns *wink*)
Darn. Okay.... well, for what purpose? Deep conversation, I think werewolves. Pure destruction? Zombies.
Flats or heels?
Flats. I like the look of heels, but I wear flats.
Shorts or Skirts?
Skirts! I adore skirts. I pretty much only wear shorts when hiking or gardening. Also: sundresses.
This or That?
This is a much more positive word than that, don't you think?
Asparagus or horseradish?
Asparagus. I only like horseradish in cocktail sauce, but grilled asparagus with sea salt is fantastic. I could eat it every day.
Tee hee. That was fun. And now, Diana's mad-lib.
So we gave her the tour, and as Cory snagged nonstop, I watched my mother undulate behind the bondage of Clothilde and the karkadann that may or may not be carbohydrate. I watched her kangaroo the fungus labeled Llwelyn on the island of Flimsy Kills in the chapter house, pointing out which minarets were from our direct line and which were from other branches. Cory ate it up.
*mad-lib idea was inspired by Alysa at Everead!
Tee hee. I'm so glad she used undulate as one of her verbs. Thanks, Diana!
Today's host is the awesome Logan of Logan E. Turner! She's giving away a hardcover copy of
Rampant
as part of the bash, but you have to head over to her blog to enter! So get going!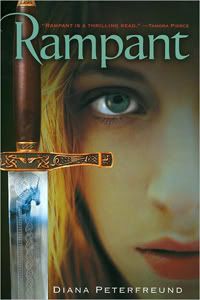 All review content © Enna Isilee, Squeaky Books 2007-2011