First of all, thank you to everyone who entered, and a BIG thank you to the 9 other participating blogs. I think this giveaway was a huge success, and there's already talks about holding another one!
But enough of that. You want to know who won, eh? I (as always) used Random.org to select the winners. BOTH of the winners were nominated by the same blog! Isn't randomness crazy? Ready?
The winners are...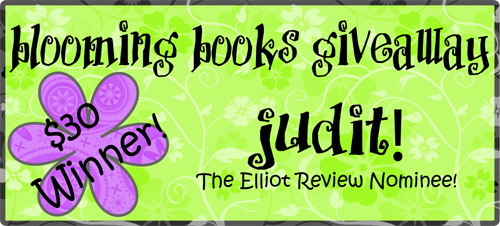 Congrats to the winners! Remember, it is
your
job to contact
me
to collect your prize. I will not be e-mailing the winners. You have 48 hours to e-mail me before I pick another winner. My e-mail is:
Squeakybooks@yahoo.com
I will respond to your e-mail within 6 hours. If you haven't heard back from me in 6 hours, e-mail again.
Again, thank you to everyone who participated, and the new followers of my blog. There's lots of fun stuff coming up on Squeaky Books, so stay tuned.
Have a fabulous Monday!

All review content © Enna Isilee, Squeaky Books 2007-2011