Hello Squeakers! Who's ready for another giveaway?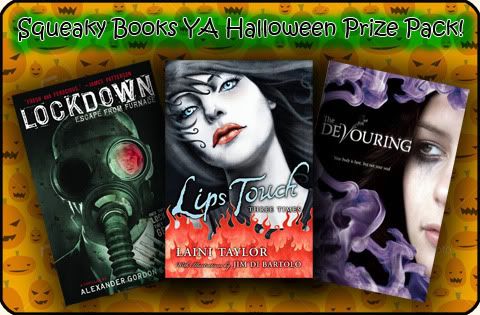 I'm a firm believer that EVERY holiday should be an excuse to read! Halloween is certainly no exception.
This Halloween I have THREE curiously creepy, deliciously disturbing, and heartwarmingly horrifying books for ONE lucky winner!
Because of the nature of these books, this contest IS going to be a little more strict than my others. Read on to find our more.
Here's what you can win, click the titles to see my reviews:
Title:
Lockdown
(Escape from Furnace #1)
Author:
Alexander Gordon Smith
Format:
Paperback
Summary:
Furnace Penitentiary: the world's most secure prison for young offenders, buried a mile beneath the earth's surface. Convicted of a murder he didn't commit, sentenced to life without parole,

Alex Sawyer knows he has two choices: find a way out, or resign himself to a death behind bars, in the darkness at the bottom of the world. Except in Furnace, death is the least of his worries. Soon Alex discovers that the prison is a place of pure evil, where inhuman creatures in gas masks stalk the corridors at night, where giants in black suits drag screaming inmates into the shadows, where deformed beasts can be heard howling from the blood-drenched tunnels below. Alex plans an escape, but will it come soon enough?
Title:
Lips Touch Three Times
Author:
Laini Taylor
Format:
Hardback
Summary:
Three tales of supernatural love, each pivoting on a kiss that is no mere kiss, but an action with profound consequences for the kissers' souls:




Goblin Fruit: In Victorian times, goblin men had only to offer young girls sumptuous fruits to tempt them to sell their souls. But what does it take to tempt today's savvy girls?

Spicy Little Curses: A demon and the ambassador to Hell tussle over the soul of a beautiful English girl in India. Matters become complicated when she falls in love and decides to test her curse.

Hatchling: Six days before Esme's fourteenth birthday, her left eye turns from brown to blue. She little suspects what the change heralds, but her small safe life begins to unravel at once. What does the beautiful, fanged man want with her, and how is her fate connected to a mysterious race of demons
Title:
The Devouring
(The Devouring Series #1)
Author:
Simon Holt
Format:
Paperback
Summary:
When Reggie finds an old journal and reads about the Vours, supernatural creatures who feast on fear and attack on the eve of the winter solstice, she assumes they are just the musings of some lunatic author. But soon, they become a terrifying reality when she begins to suspect that her timid younger brother might be one of their victims.




Risking her life and her sanity, Reggie enters a living nightmare to save the people she loves. Can she devour her own fears before they devour her?

Bone-chilling, terrifying, thrilling...what are you waiting for?
You can own all three of these books!
These are VERY creepy books. You guys know that I have no tolerance for swearing, but I also have a very dull inner eye. I don't visualize what I'm reading very vividly. That's why I'm able to get through books like these. There are some SERIOUSLY disturbing things in these books. If they were movies, I wouldn't watch them. They are about torturing children, death by demons/curses, and demonic possession respectively. NOT APPROPRIATE FOR ALL AGES. But they are perfect for halloween. Because of this, if you are under 18 you must have a parent's permission to enter this contest. Yes, they are YA books. No, I'm not trying to censor you. These books are probably fine for ages 15/16+. I'm being overly-cautious, but that's better than under-cautious, right?
Have I scared you away yet? No? Oh good.
HOW TO ENTER:
In the comments tell me the BEST halloween costume you've ever seen/worn

(please stay appropriate for all audiences!)

Fill out THE FORM.
RULES:
Open to US residents only.
If you are under 18 years old you must provide a parental e-mail

( I don't want your parents to hate me for tarnishing your innocent minds *wink*)
DETAILS:
Contest begins 10/8
Contest ends 10/20 at 11:59 pm
Winner announced 10/21