Today I get to interview the fabulous Caragh O'Brien! I read her debut novel
Birthmarked
earlier this year and LOVED it (
click for review
). There is no giveaway associated with this interview, but I'll probably give away a copy sometime in the future, because I want EVERYONE to read it! And without further ado, Caragh:
Caragh's Website
Birthmarked's GoodReads Page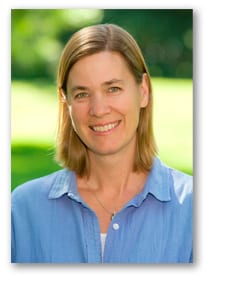 What's the best birthday present you've ever received?
First, let me say how delighted I am that you enjoyed Gaia's story and invited me by for a visit, Enna. It's great to be here.
As for favorite gifts, my Aunt Rosemary gave me a pink Fair Isle sweater when I turned sixteen, the cardigan kind with a flower pattern in the yoke. I was young enough that I still longed to be pretty, and that sweater seemed magically beautiful to me, and full of my aunt's generous love.
What can we expect next from Caragh O'Brien (Pertaining to books, that is)?
I've been working on the sequel to BIRTHMARKED, which is due out in the fall of 2011. In Book 2, another dystopian society has adapted to a stressed environment, and women rule the men who vastly outnumber them. It has been fascinating to think about Gaia's sense of justice and her curiosity running up against new problems. I like being in her mind.
If you were in BIRTHMARKED would you rather live in, or outside of the Enclave?
If I lived in the book, I would rather live inside the Enclave, but still have clear vision to see that things need to change. It's hard to change things from the outside, but inside, it's easy to get lulled into complacency. I supposed that's true outside the book, too.
Where did the idea for BIRTHMARKED come from?
The very first idea came from a drive across country during the drought of 2008, when I saw the empty lakes and the southern states looked like a wasteland. That gave me a hint of a setting with political and social strife, and then Gaia was inspired by the strength I saw in my children and students.
What did you think of the cover of BIRTHMARKED?
The cover is great! The team at Roaring Brook went through dozens of covers, even switching it up again after the arc. They didn't quit until they had it right. I love how the cover creates an ominous mood and captures Gaia's determination. The strings especially delight me.
What's your favorite meal?
I like to skip right ahead to the ice cream with homemade fudge sauce. We have a family recipe that's to die for.
What kind of car do you drive?
What kind of car do you wish you drove?
I drive a blue Toyota Corolla. I'd like to drive a red hybrid VW bug. Does that exist?
If you could have any one super-power for a day, which would you choose?
The flying is included, right? I'd choose the power to make plants grow, so I could fly over fields and watch everything blossom and ripen right in front of me.
Now some fun from the random plot generator!
You are writing a story in which a wisecracking librarian is the protagonist. Who is the antagonist?
The book-burner who wants to cut funding. The trick would be giving it a happy ending.
Anything else you'd like to say?
I'd like to add my thanks, Enna. I enjoy your Squeaky Books site and your warm, candid perspective on YA books. I think it's a really cool time for YA, and I like how your site adds to the conversation. Most of all, I'd like to say Happy Birthday!
Thanks, Caragh!